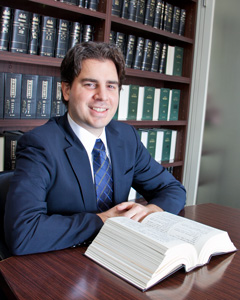 John serves as the firm's foreign legal associate and works on matters relating to corporate law, commercial transactions, international contracts, international civil disputes, entertainment law, and family law. John is fluent in Japanese and performs Japanese legal translation and interpretation. As an Ontario licensed lawyer, John also advises on matters relating to Canadian law.
John earned a Bachelor of Arts degree at the University of Western Ontario in 2009, with a major in Philosophy and a minor in Japanese. During his time at Western, he studied abroad for one year at Kyoto University of Foreign Studies and has since become fluent in Japanese. As a result, he is able to perform accurate Japanese legal translation and interpretation for clients.
John went on to obtain his law degree in both Canada and the U.S. In 2013, he graduated with a dual J.D. from  the University of Ottawa and Michigan State University. He attended part of his law school education at Doshisha Law School in Kyoto, Japan. John was called to the Ontario bar in 2015.
In 2011, John spent his summer working for the Law Clerk and Parliamentary Counsel for the Senate of Canada. He went on to spend his next summer working with in-house legal counsel at Carillion Canada. These opportunities provided him with a wide array of legal experience.
In 2015, John worked for Krylov Lam & Company, with a focus on civil litigation. John has substantial litigation experience with appearances before the Ontario Superior Court of Justice, the Court of Appeal for Ontario, and the Financial Services Commission of Ontario.
Legal Experience
Associate Attorney-at-Law at Krylov Lam & Company, 2015 – 2017
Associate Attorney-at-Law at Ohara & Furukawa, 2017 – Present
Education and Bar Admissions
Admitted as a Lawyer in Ontario, Canada,
2015
University of Ottawa, Faculty of Law, J.D., 2013
Michigan State University, College of Law, J.D., 2013
University of Western Ontario, Major in Philosophy / Minor in Japanese, 2009